As a responsible apparel producer, Orbid provides employees a work environment high above the law-required level. Orbid installed and has updated lighting, ventilation ergonomics of its plants using latest technologies like bus bar for electrical fitting, overhead mirror reflections for lamps, forced dust ventilation and so on.
Green & Responsible Environment
Being "Green-minded", Orbid believes that its success should not come at the expense of the environment. Through responsible acting and innovative thinking, it contributes to the prevention of pollution, energy conservation and sustainable use of raw materials.
Orbid works arduously to minimize energy consumption and reduce greenhouse gas emissions. Orbid has improved store design, enforced the recycling of waste and implemented usage of double-sided copy machines. Orbid strictly complies with BSCI and TUV, SUD regulations and thus, actively supports the elimination of child labor from the society. Orbid believes that the best way to bring about social and environmental change is to leverage its biggest corporate asset – the workplace. With over 493 skilled employees, Orbid has enormous potential to make a difference, through employee talents and passion for volunteering. Orbid certainly repays them by arranging programs and annual festivals.
Safety & Integrity
Orbid strictly adheres to ethical business practice. It carries out compliance as a continuous process, and exceeds local legislations to meet BSCI and TUV SUD convention in terms of employment practice and safety. Its compliance management team monitors and reviews the various activities performed throughout the organization. For the safety of its workers, Orbid has improved workplace conditions; set up
noticeable warning signs in the local language; enforced the usages of safety equipment; and built awareness among the workforce. The workplace has clearly demarcated emergency exits and equipment.
Besides paying a healthy living wage- much higher than the legal minimum. Orbid strongly opposes force-labor, child-labor, racism, discrimination and exploitation of workers, and makes every possible effort to discourage such misconducts. It employs individual solely on the basis of their qualification.
Worker's Welfare
Besides paying a "living wage" which is substantially higher than the legal minimum, Orbid supports by setting up welfare facilities
like Dining, Medical center, and Day-care center. The result is industry-low turnover rate in its workplace. Properly equipped with a team of full-time doctors and nurses, its medical unit extends consultation and medication to workers' general health care requirements. It also bears full expenses of treatment of any injuries incurred in working hours.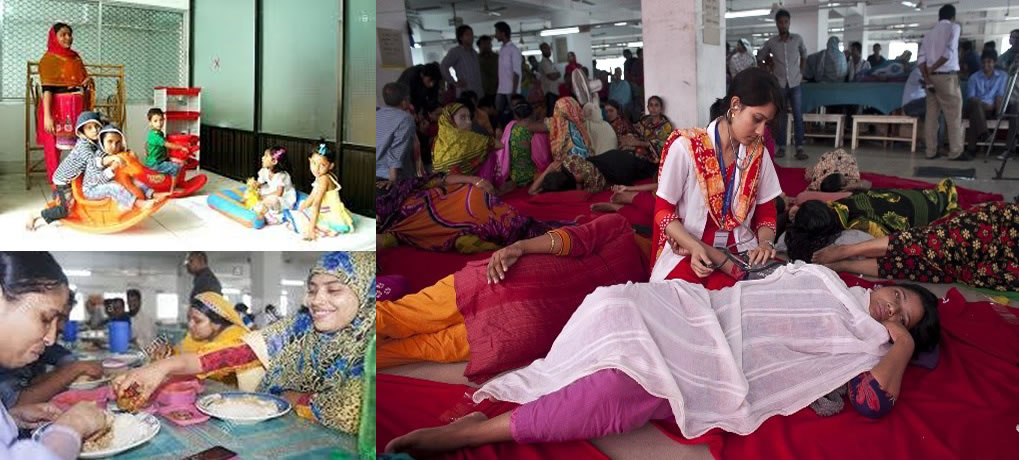 In Orbid, day-care center is not mere compliance with legal requirement, rather a pride-taking facility to take care & entertain children of working mothers. Specious, highly hygienic, properly furnished and supervised by trained personnel. These day care centers comfort working mother by ensuring quality time for their children. Moreover, adequate and facilitated arrangement of dining, safe drinking waters and hygienic lavatories make Orbid a better place to work.